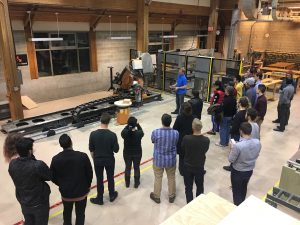 The CAWP 2019 Open House and Co-op Presentation Evening will be held on Thursday, January 31st. To join us, please RSVP here: CAWP Open House.
CAWP's Open House event is an opportunity for interested individuals to  learn more about the education, training, research and industry assistance programs that go on in our building. In the afternoon we have a few short presentations on topics of interest to the wood products industry community. From 3pm visitors can walk around and view practical demonstrations and exhibits in our machine lab areas, as well as talk to some of our machinery, software and educational partners. In the evening, final-year co-op students in the Wood Products Processing program  and other UBC Forestry undergraduate programs describe the projects they completed during their recent co-op work terms. There is ample opportunity in the afternoon and evening to network with manufacturers, suppliers, students, staff and faculty.
Schedule for 2019 CAWP Open House:
12.30PM – Registration and Lunch
1.15PM – Welcome and CAWP Update – What's on the calendar for this year? – Jason Chiu, CAWP
1.25PM – Co-op and undergraduate program overview – Sanya Sivic
1.35PM – Digital Design Seminar Update – Annalisa Meyboom will report on the Robot Fabrication and Digital Design workshop.
1.55PM – UBC Formula Car Team – Jeffery Schidlowsky will present on the robotic mould fabrication project
2.05PM – Market intelligence report: Jason Chiu / Joern Dettmer will report on the technical highlights from our December prefabricated construction technical tour to Germany.
2.25PM – Construction waste recycling: Adam Corneil will report and his deconstruction company, Unbuilders.
2.45PM – Laser Log Scanning Conveyor system – Dr. Julie Cool will discuss and demonstrate the newly donated Log Scanner Conveyor, a collaboration between Optimil Machinery, Hermary and MPM Engineering.
3.00PM to 5.00PM – Machine labs (downstairs)
Machinery and Software Demonstration
▪Kuka Robot demonstration
▪Log Scanner Conveyor Demonstration
▪MasterCAM demonstration (5-axis CNC)
▪Camfil / Eco-gate Dust Collection System
▪Homag Nested-base CNC demonstration
▪Weinig Moulder demonstration
▪Hundegger Robot Drive demo
▪3D printing with wood and laser cutting demonstrations
▪tabletop exhibitions
5.00PM – Pizza and refreshments
6.00PM – Co-op presentation evening – Forest Sciences Centre. Students in the B.Sc. Wood Products Processing program and other Forestry undergraduate programs will make short presentations on their co-op work term experiences.